Fwd: Christmas Candy
From: Mike Cole (lchcmike@gmail.com)
Date: Sat Dec 25 2004 - 10:59:15 PST
---
Forwarded from a message sent back to our department by a colleague
studying boundary crossing in a context little represented on xmca.
mike

---------- Forwarded message ----------
From: gfields@weber.ucsd.edu <gfields@weber.ucsd.edu>
Date: Sat, 25 Dec 2004 09:17:20 -0800 (PST)
Subject: Christmas Candy
To: commfac@ucsd.edu, commgrad@ucsd.edu

The Dispensing of Christmas Candy

Last night was Christmas Eve here in the West Bank
and consequently there was considerable media
attention focused on the city of Bethlehem, where I
spent 4 days earlier in the month.

I was able to catch the CNN coverage of Christmas Eve
festivities in Bethlehem and I watched, appalled at
what I was seeing. In the clips shown, there was not
a single image of the Wall that cuts this city in
two, which didn't surprise me too much.

What really did cause me to take notice was the focus
in the clips about Israeli soldiers handing out
"Christmas Candy" to visitors coming into the town.
Never mind how it is that Israeli soldiers are there
in the first place, performing such a benevolent
mission.

There was also mention about how Israelis had granted
visitors "free passage" into the city for the
Christmas holiday, and how even the Palestinian
leadership was being allowed to visit the city for
Christmas for the first time in four years. The
overall tone was one of Israeli "generosity" in the
face of adversity.

In other parts of the West Bank, however -- that is,
in virtually every part outside Jerusalem where the
media never visit -- it was business as usual.

I was in the North traveling toward Bethlehem and
waited one hour at the Jabara checkpoint near
Tulkarem. Ten miles later at the next checkpoint, I
was detained because the Israeli soldier claimed that
my taxi driver did not have the required DCO permit
needed for passage in that area. So much for free
passage. The soldier told me to get out of the taxi
with my luggage and find another one in the line of
cars waiting behind us. It was pouring rain and it
was dreadfully cold. I argued with this soldier.

Finally, after 30 minutes of pleading and arguing,
the soldier said he was going to do something good
for me because it was Christmas Eve. He decided that
he would let my driver through the checkpoint without
the DCO permit and therefore I could pass. "Just
because it's Christmas," he repeated.

I finally reached Ramallah after almost 4 hours, the
beneficiary of Christmas Candy dispensed by the
soldier at the checkpoint.

Behind the public relations fest of the Christmas
sweets, however, lies another reality never, ever
mentioned in the media coverage of this conflict.

This man in the photo is Tawfiq Hasam Salim. He is a
farmer from Jayyus near Qalqilya. I was in Jayyus
two weeks ago for five days and witnessed something I
have never seen.

Settlers from the nearby Israeli settlement of Zufin
came with guns and two bulldozers to his land. These
settlers claimed that Tawfiq's land belonged to the
settlement. It was their land, they insisted. They
proceeded to bulldoze his 120 olive trees. Israeli
soldiers nearby did nothing. They simply let it go
on.

By chance, I happened to be with Tawfiq in Jayyus
moments after he learned about this tragedy when I
took this terribly sad photo. His story is one of
many never heard in a media ever silent and blind,
unwilling to look and listen. All we seem to be told
are tales of Christmas Candy. Will there be a time
when soldiers stop dispensing such gifts?

---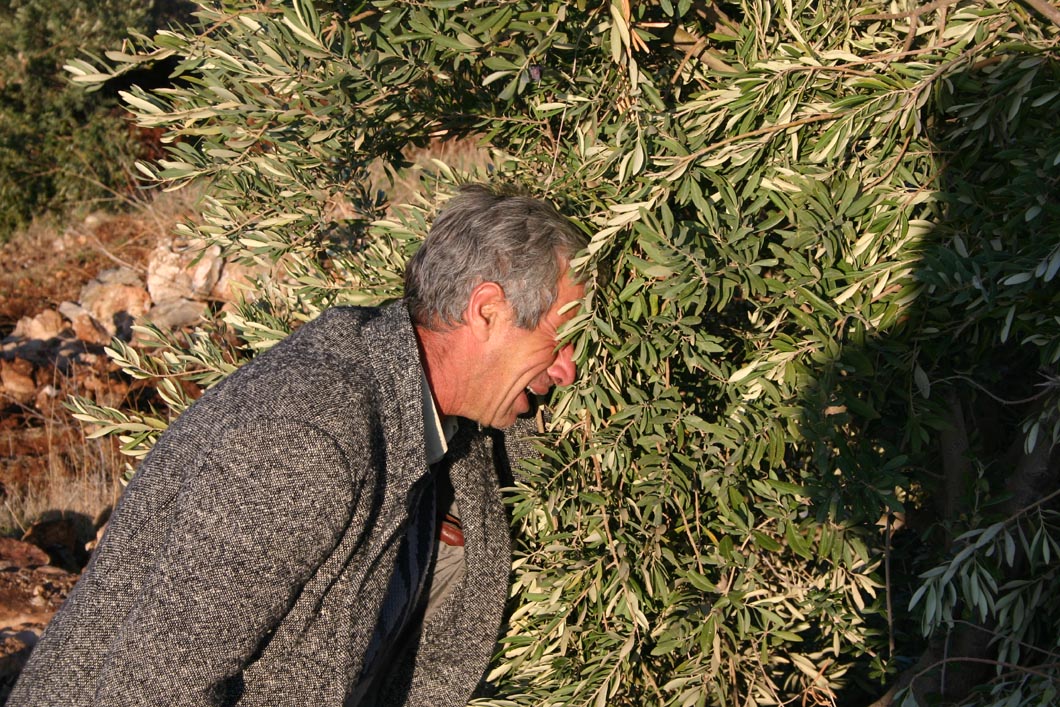 ---
---
This archive was generated by hypermail 2b29 : Sat Jan 01 2005 - 01:00:04 PST