Re: [xmca] a living archive of practice, anyone?
From: Jay Lemke (jaylemke@umich.edu)
Date: Fri Mar 16 2007 - 17:27:48 PST
---
The Link is

http://gallery.carnegiefoundation.org/insideteaching/quest/collections.html

or back up this link to /insideteaching, which is the portal homepage.

I have just been invited to join a working group to plan an
initiative here around working intensively in both research and
teacher education with multimedia records of practice. Our new dean,
Deborah Ball, and one of my colleagues here, Magdalene Lampert, both
in mathematics education were pioneers in this area, and their
original data files still exist are being retro-coverted to current
digital file formats. In the mid-90s they collected a year's worth of
teaching practice, with video, audio, teacher's notes, interviews
with teachers, students' notes in class, seating charts, student
work, all interlinked in a database. The video in those days was on
video laserdisc. I attach an image from the file menu showing what
was included. It was a proof-of-concept study and probably more
extensive than has been done since.

Data like this is a goldmine for AT-based analysis, and in the
future, adding in more on the historical context of practices in a
school, and other AT-relevant contextual information, or looking in
this way more focally at processes of individual and institutional
change, can be very rich indeed.

JAY.

>Here's an interesting activity: It's called "Inside Teaching: A living
>archive of practice." It has "multi-media records of practice." It's from
>the Carnegie Foundation for the Advancement of Teaching. Cyndy Greenleaf
>called my attention to it.
>PG
>
>_______________________________________________
>xmca mailing list
>xmca@weber.ucsd.edu
>http://dss.ucsd.edu/mailman/listinfo/xmca


-- 


JAY L. LEMKE
Educational Studies
University of Michigan
610 East University
Ann Arbor, MI 48109


Ph: 734-763-9276
Fax: 734-936-1606
www.umich.edu/~jaylemke/



---
application/applefile attachment: stored
---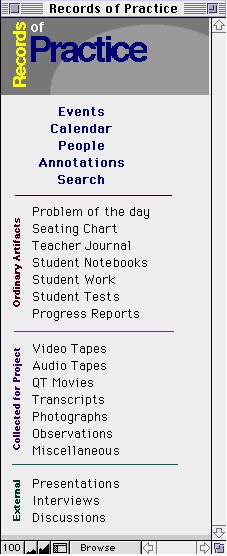 _______________________________________________ xmca mailing list xmca@weber.ucsd.edu http://dss.ucsd.edu/mailman/listinfo/xmca
---
---
This archive was generated by hypermail 2b29 : Sun Apr 01 2007 - 01:00:11 PST