new book
From: Wolff-Michael Roth (mroth@uvic.ca)
Date: Thu May 05 2005 - 16:53:12 PDT
---
Dear xmca'ers,
I wanted to let you know that we, too, had a book in the same series
where Yrjö's two new recent ones came out.

The outstanding feature is that all chapters push the dialectical
aspect of CHAT, defining dialectical concepts (with inner
contradictions) that generate constant movement and development. I am
pasting the table of contents and book cover.

Michael

Participation, Learning, and Identity: Dialectical Perspectives

Preface vii
Part I Introduction 1
1 Toward a dialectical perspective of participation, learning, and
identity 3
Part II Dialectic of Participation 27
2 Margin|center 29
3 Darkness|light: the dialectic of bringing forth worlds 53
Part III Dialectic of Learning 79
4 Dialectic of structures: contradiction|resistance and
accommodation 81
5 Dialectic of enculturation 117
6 Subjectivity|intersubjectivity: the dialectic
of collaboration 147
7 Object, community, history 175
8 Two dialectics of learning: ascension from abstract
to concrete 199
Part IV Dialectic of Identity 225
9 Identities and self|other dialectics 227
10 Identity and organizational identification 255
Appendix 277
References 279
Index 285

---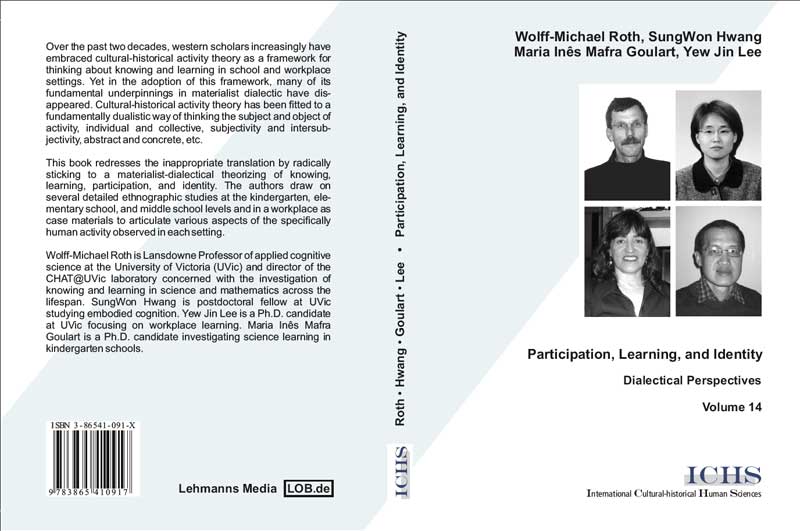 ---
---
This archive was generated by hypermail 2b29 : Wed Jun 01 2005 - 01:00:04 PDT