---
[Date Prev][Date Next][Thread Prev][Thread Next][Date Index][Thread Index]
[xmca] Full/Associate Professor, Urban Education IUPUI
---
To: "'eXtended Mind, Culture, Activity'" <xmca@weber.ucsd.edu>
Subject: [xmca] Full/Associate Professor, Urban Education IUPUI
From: "Peter Smagorinsky" <smago@uga.edu>
Date: Wed, 31 Aug 2011 17:02:25 -0400
Delivered-to: xmca@weber.ucsd.edu
List-archive: <http://dss.ucsd.edu/mailman/private/xmca>
List-help: <mailto:xmca-request@weber.ucsd.edu?subject=help>
List-id: "eXtended Mind, Culture, Activity" <xmca.weber.ucsd.edu>
List-post: <mailto:xmca@weber.ucsd.edu>
List-subscribe: <http://dss.ucsd.edu/mailman/listinfo/xmca>, <mailto:xmca-request@weber.ucsd.edu?subject=subscribe>
List-unsubscribe: <http://dss.ucsd.edu/mailman/listinfo/xmca>, <mailto:xmca-request@weber.ucsd.edu?subject=unsubscribe>
Reply-to: "eXtended Mind, Culture, Activity" <xmca@weber.ucsd.edu>
Sender: xmca-bounces@weber.ucsd.edu
Thread-index: AcxoIT0BTOVenMx6QgOMzz0gJmffKQ==
---


 

Full/Associate Professor, Urban Education

 

We seek outstanding candidates with research and teaching interests
specifically related to the growing field of Urban Education.  We are
developing a new doctoral program in Urban Education that will be integrally
linked to our mission of collaboration with community, social justice, and
high-impact research.  The Indiana University School of Education at IUPUI
(Indiana University-Purdue University, Indianapolis) is nationally ranked
and located at a large urban research campus in the heart of Indianapolis.
Faculty have opportunities to collaborate with IU School of Education
faculty on the Bloomington campus.  

 

Qualifications:

*	Doctorate (Ed.D. or Ph.D.) in an appropriate field and
specialization in urban education 
*	Demonstrated excellence in teaching graduate students
*	Experience with education policy at the local, state and/or national
levels
*	Demonstrated expertise in research methodology and record of
scholarship
*	Success in obtaining external research grants and contracts
*	Teaching experience or significant collaborative work in urban
public schools 
*	Curricular expertise in K-12 education

 

Duties:

*	Provide leadership to the Urban Education doctoral program
*	Teach Urban Education courses in the Doctoral, Master's and
Licensure Programs at the undergraduate and graduate levels 
*	Advise and mentor graduate students and direct doctoral
dissertations
*	Work collaboratively with K-12 schools and community/state partners
*	Maintain an active research and publication agenda pertaining to
K-12 and community based urban education

.         Collaborative with School of Education Centers and programs, as
well as other university and community partners

 

Application:  Candidates should submit (a) letter of application describing
their research and teaching interests and experience, (b) curriculum vita,
(c) samples of scholarship, and (d) three letters of reference. Screening of
applicants will begin November 22, 2011 and continue until the position is
filled.  Starting date is August 1, 2012.  Rank and salary is commensurate
with qualifications and experience. Please send materials to:
Indiana University School of Education, IUPUI

c/o Ashley Clemons

902 W. New York Street, ES 3138

Indianapolis, IN  46202-5155
            aclemons@iupui.edu

 

	

Direct questions to Dr. Robert Helfenbein at:  <mailto:rhelfenb@iupui.edu>
rhelfenb@iupui.edu.  Additional information about the School of Education
can be found at:  <http://education.iupui.edu/soe/index.aspx>
http://education.iupui.edu/soe/index.aspx.  Indiana University is an
Affirmative Action, Equal Opportunity Employer.  We seek applications from
women, persons of color, individuals with disabilities and members of other
underrepresented groups.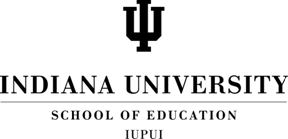 __________________________________________
_____
xmca mailing list
xmca@weber.ucsd.edu
http://dss.ucsd.edu/mailman/listinfo/xmca

---