RE: [xmca] ISCAR in Sevilla -- loose impressions
From: Alexander Surmava (monada@netvox.ru)
Date: Sat Oct 01 2005 - 14:34:19 PDT
---
The thing impressed me more than anything else in Seville was a concentration in one place and at one time of investigators who are sincerely interested in researches and moreover in vygotskian researches.

It's not a secret that the degree of alienation in the former USSR as well as in modern Russia goes off scale. So the overwhelming majority of researchers are more interested in number of publications and formal academic degrees than in getting into the truth. Surely the real progress in research can be achieved only by those who are not alienated by those like Davydov and Ilyenkov were. Surely even today we can name a list of researchers which are far from anу alienation, but unfortunately they are not who is shaping the academic atmosphere in Russia today.

The next thing impressed me was the social concern of the substantial part of foreign colleges. Those estimations can probably sounds naïve… for those who have never lived in Russia. Who have never heard the anecdote about the God who gave us three gifts: mind, honesty and Communist Party membership whereas devil took away one of them from each of us.

The communist party is in the well forgotten past now, but most of us are still convinced that the cynicism is a synonym of cleverness as well as sincerity is a synonym of foolishness.

Surely I guess that there is much of alienation as well as of cynicism in the West. I guess that our little globe is still too far from any perfection but the concentration in the Seville's congress of those I take as a kindred spirit was promising.

My best impressions from the congress are people I've met there.

Cheers

Sasha Surmava

P.S. As for Mike's presence in Seville…

I can witness that there was at least one collateral evidence of it – his hat (See attached photo!)

-----Original Message-----
From: xmca-bounces@weber.ucsd.edu [mailto:xmca-bounces@weber.ucsd.edu] On Behalf Of Ana Marjanovic-Shane
Sent: Friday, September 30, 2005 6:45 PM
To: Xmca
Subject: [xmca] ISCAR in Sevilla -- loose impressions

Sevilla...

Sun and narrow streets. Houses in yellow and white, blue and white,

stone and white... Cobblestones... Built in mill stones... Alcazar,

churches, former mosques, synagogues...

Time long lost is maybe trapped in these walls. Or not? Everything is

tailor made for tourists. Restaurants, shops, stands... And it is

captivating. A jewel of a city.

And ISCAR! More than 800 participants in 4 and half days! Crowds of

faces -- unknown and known! Celebrities and friends. Faces on names from

XMCA list...

The program which is almost like an APA or AERA program: pages and pages

long. More that 15 sessions at the same time. Changes in the program...

Some people must be divisible: they are in three or more sessions in two

or more buildings at the same time!! And some are even flying at the

same time!

There are frustrations: too little time to say what you want to

present.. Too little time to have more discussions from the audience..

Too many sessions you want to go to, but they are at the same time.

Trying to run from one session to another, missing important things. The

order of presentations was changed... People you would really love to be

introduced to and have a chance to discuss important things with them,

but there is no time, no chance...

Sudden unexpected revelations! I never thought of that! Of course!

Are we changing this model? Too many triangles? Or too little? Circles

would be better? Arrows, maybe? How to capture dynamics?

Is this conference connected to the reality at all? Look at what is

going on in the world and is anyone addressing it? How can we continue

like this and not look with open eyes?

Do you remember me? Oooh! Yes... You are.. I was in your session in the

conference... in 1995... Thank you for coming to my poster session.

Look, there! I hope she throws a look over here. I know that my

presentation is relevant if only it could get enough attention...

Mmmm! What is this? I don't know, but it tastes great. The wine is

good... It's so nice to be able to sit together. I am very interested in

your understanding of time, time scales of an activity. I once wrote a

paper only on time scales and the imagined history... Yes? You think

that time itself is a socially mediated concept? Quite possible. That

puts my thoughts in another light. Could you pass me some butter? Time

is a complex thing to study. And of course, we never really capture the

dynamics... (I don't even know it it is possible). What kind of unit can

reflect time and dynamic?

Dynamics of a conference... What sessions can I get to? What is next?

Let me see... this program is so heavy. And what is tonight? Should I go

and change or just hang here?

I think I'll just hang here. I think I'll start telling you everything

from every session I went to, even if it was the last sentence of a

speech I did not hear. But the sentence was great. Here, I wrote it down

just for you:

"Mediation: it should bring the world into view for us; not be in the

way, between us and the world."

This is just a beginning. First faint strokes on a canvas. How long does

it take to digest a conference of this magnitude? How long does it take

to become hungry again? Can we eat the cake and still have it?

All of this is meant to start you up, to make you share your serious and

silly, inspired and bored remarks and analyzes of ISCAR at Sevilla.

My next, more analytic e-mail will follow later.

Ana

_______________________________________________

xmca mailing list

http://dss.ucsd.edu/mailman/listinfo/xmca

---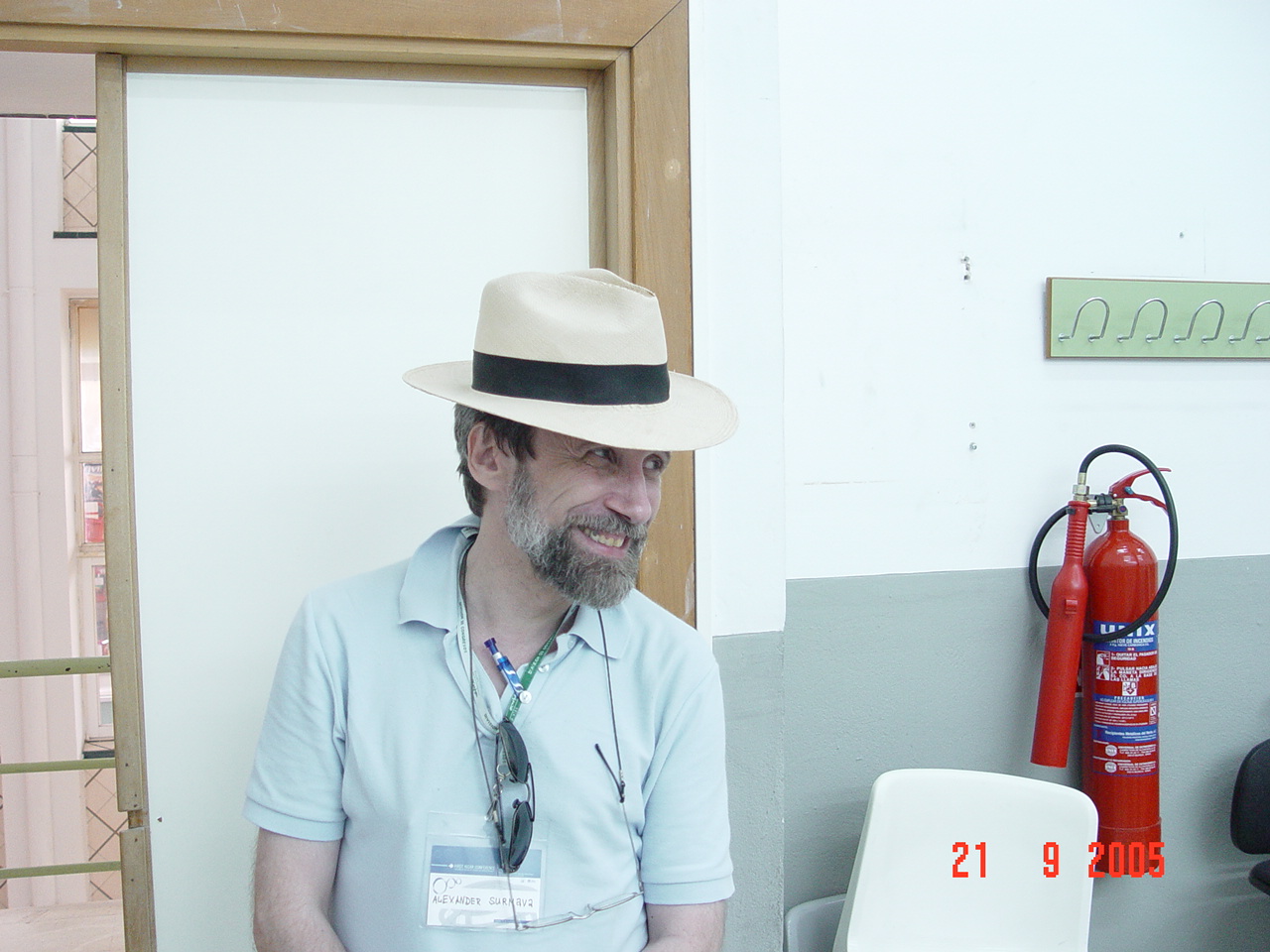 _______________________________________________
xmca mailing list
xmca@weber.ucsd.edu
http://dss.ucsd.edu/mailman/listinfo/xmca

---
---
This archive was generated by hypermail 2b29 : Tue Nov 01 2005 - 01:00:20 PST