[xmca] RV: WCC-2006: Women and IT
From: David Preiss (davidpreiss@puc.cl)
Date: Wed Jun 21 2006 - 12:17:34 PDT
---
-----Mensaje original-----
De: Valeska Larrucea [mailto:vlarrucea@diinf.usach.cl]
Enviado el: Miércoles, 21 de Junio de 2006 12:13
Para: wcc2006@diinf.usach.cl
Asunto: WCC-2006: Women and IT
Importancia: Alta

Please, feel free to share this announcement with those who may have
interest in participating in the Workshop on Women in the Information
Society.

Kind regards,


-- 
Este mensaje ha sido analizado por  <http://www.mailscanner.info/>
MailScanner 
en busca de virus y otros contenidos peligrosos, 
y se considera que está limpio. 
MailScanner agradece a transtec Computers <http://www.transtec.co.uk/>  por
su apoyo. 




---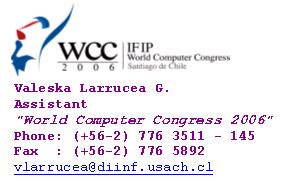 ---
_______________________________________________ xmca mailing list xmca@weber.ucsd.edu http://dss.ucsd.edu/mailman/listinfo/xmca
---
---
This archive was generated by hypermail 2b29 : Tue Sep 05 2006 - 08:11:25 PDT