[xmca] AFL-CIO Hurricane Fund
From: Bruce Robinson (bruce.rob@btinternet.com)
Date: Fri Sep 02 2005 - 11:45:55 PDT
---
Here is another non-religious initiative. See
https://secure.ga3.org/08/UCF_Katrina_Relief

Bruce R

Help Working Families Devastated by Hurricane Katrina
Donations to the Union Community Fund are tax-deductible.

Working families in Louisiana, Mississippi and Alabama desperately need your
help. Please contribute as generously as you possibly can to the special
Hurricane Relief Fund of the AFL-CIO's Union Community Fund, labor's charity
for working families and communities in distress. We are working with the
labor federations in the affected states and with relief organizations to
target help to our working brothers and sisters who need it most. UCF is a
nonprofit, 501(c)(3) public charity. Donations to UCF are tax-deductible to
the extent provided by law.

----- Original Message -----
From: "Peg Griffin" <Peg.Griffin@worldnet.att.net>
To: "'eXtended Mind, Culture, Activity'" <xmca@weber.ucsd.edu>
Sent: Friday, September 02, 2005 2:58 PM
Subject: RE: [xmca] Hurricane Katrina-LSU Student Relief Fund

> Thanks for that info, bb.
> I add that to Ayhan Aytes' concern and the fed gov responsibility: The
> "faith based initiative" move of the last half dozen years have become the
> normal. The call for volunteers by the Alabama state government directed
> people to a government sponsored site to sign up under faith based
> initiative groups. Maybe an indictment for malfeasance or criminal
> negligence will show that "privatization" into "faith based initiatives"
> added layers and mazes to the government response, making a second assault
> on people in duress.
> Along those lines, A CBS reporter, asked by the anchor why Bush's trip to
> the gulf did not include a landing in the major disaster points in New
> Orleans, says, "They'll tell us its security but you never know what it
> really is." Right on network TV, a staid reporter speaking from DC said
> it
> out loud.
> Peg
>
> -----Original Message-----
> From: xmca-bounces@weber.ucsd.edu [mailto:xmca-bounces@weber.ucsd.edu] On
> Behalf Of bb
> Sent: Friday, September 02, 2005 6:25 AM
> To: eXtended Mind, Culture, Activity
> Subject: RE: [xmca] Hurricane Katrina-LSU Student Relief Fund
>
> Not to distract from immediate responses to Katrina, but to indicate the
> need to think and act over multiple timescales, through multiple avenues,
> here's acouple of links, indicating that (1) these kinds of storms were
> not
> only predicted, but are expected to continue, and that (2) the white house
> won't do anything about the underlaying cause.
>
> The links between hurricanes and climate change
> http://www.ucsusa.org/global_environment/global_warming/page.cfm?pageID=1529
>
> Global Warming Negotiations Must Move Forward Without the United States
> http://www.ucsusa.org/news/press_release.cfm?newsID=443
>
> bb
>
>
>> Peg,
>>
>> The MIT opened in its home page the following web page:
>>
>> Contribute Ideas for Hurricane Katrina Recovery
>>
>> https://alum.mit.edu/comments/View.dyn?id=363
>>
>> There, 2 people wrote:
>>
>> Darcy 1991 Thursday September 1, 2005 7:17pm
>>
>> MIT should consider letting students from Xaxier, Tulane and other
>> schools
>
>> in for a term while New Orleans is underwater.
>>
>> Other schools including Penn and Georgia State are making such offers.
>>
>>
> ----------------------------------------------------------------------------
>
>> ----
>> Tiffany Kosolcharoen 2006 Thursday September 1, 2005 6:47pm
>>
>> At the University of Pennsylvania, my sister said qualified
>> Philadelphia-area students enrolled in universities at the hurricane
>> stricken areas have the opportunity to take fall semester classes at
>> Penn.
>
>> Faculty will also be offered a paid leave to volunteer.
>>
>> Penn's leadership in extending admission to displaced students, whose
>> tuition will go towards rebuilding their New Orleans universities, is a
>> paragon to follow.
>>
>> _____________________________________________________
>>
>> Tulane's president keeps an ongoing diary on the webpage of Tulane
>> www.tulane.edu
>>
>>
>> David
>>
>>
>> David D. Preiss
>> home page: http://pantheon.yale.edu/~ddp6/
>> _______________________________________________
>> xmca mailing list
>> xmca@weber.ucsd.edu
>> http://dss.ucsd.edu/mailman/listinfo/xmca
> _______________________________________________
> xmca mailing list
> xmca@weber.ucsd.edu
> http://dss.ucsd.edu/mailman/listinfo/xmca
>
>
> _______________________________________________
> xmca mailing list
> xmca@weber.ucsd.edu
> http://dss.ucsd.edu/mailman/listinfo/xmca
>
>
> --
> No virus found in this incoming message.
> Checked by AVG Anti-Virus.
> Version: 7.0.344 / Virus Database: 267.10.17/85 - Release Date: 30/08/2005
>
>

---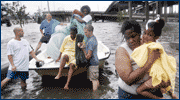 _______________________________________________
xmca mailing list
xmca@weber.ucsd.edu
http://dss.ucsd.edu/mailman/listinfo/xmca

---
---
This archive was generated by hypermail 2b29 : Sat Oct 01 2005 - 01:00:10 PDT