[xmca] FW: Tool for Constructing Activity Systems
From: lcclarke (lcclarke@rogers.com)
Date: Tue Jul 05 2005 - 21:53:00 PDT
---
Thanks a million Carol,

For these excellent activity triangle graphics, they are priceless!

Leroy

Leroy Clarke

Doctoral Candidate

Curriculum Teaching & Learning

OISEUT, Toronto, Canada

-----Original Message-----
From: Carol Macdonald [mailto:macdonaldc@educ.wits.ac.za]
Sent: Thursday, June 16, 2005 4:07 PM
To: lcclarke@rogers.com
Subject: RE: Tool for Constructing Activity Systems

I have lovely activity systems (Engeström version 2 and 3) drawn by a
graphic artist, but am on my way to Cape Two now. Will send them (jpeg
files) on my return. Sorry for the rush.

Carol

-----Original Message-----
From: lcclarke [mailto:lcclarke@rogers.com]
Sent: Friday, June 10, 2005 1:19 PM
To: xmca@weber.ucsd.edu
Subject: Tool for Constructing Activity Systems

Hi Fellow XMCAers,

Is there anyone out there in activity land who knows of an available tool or
application for constructing/drawing activity systems/triangles. I could
use the line tools in Microsoft Word but that is tedious and time-consuming.
I would be very interested in contacting anyone involved in constructing
simple to complex systems using Engestrom's activity triangles. Thanks in
advance.

As a newer member of this learning community I find this CHAT group very
supportive and extremely knowledge-enriching. Keep up the good work!

Leroy

*****************************************************

Leroy C. Clarke

Doctoral Candidate, Curriculum Teaching & Learning

Ontario Institute for Studies in Education of the University of Toronto

Room 11-235, 252 Bloor Street, Toronto, ON, Canada, M5S 1V6

Tel: 905-432-7792

Email: <email:%20lclarke@oise.utoronto.ca> lclarke@oise.utoronto.ca or
leroy.clarke@durhamrc.edu.on.ca

Listen to Life Changing Radio: http://www.lifetalk.net/listenHere.html

*****************************************************

---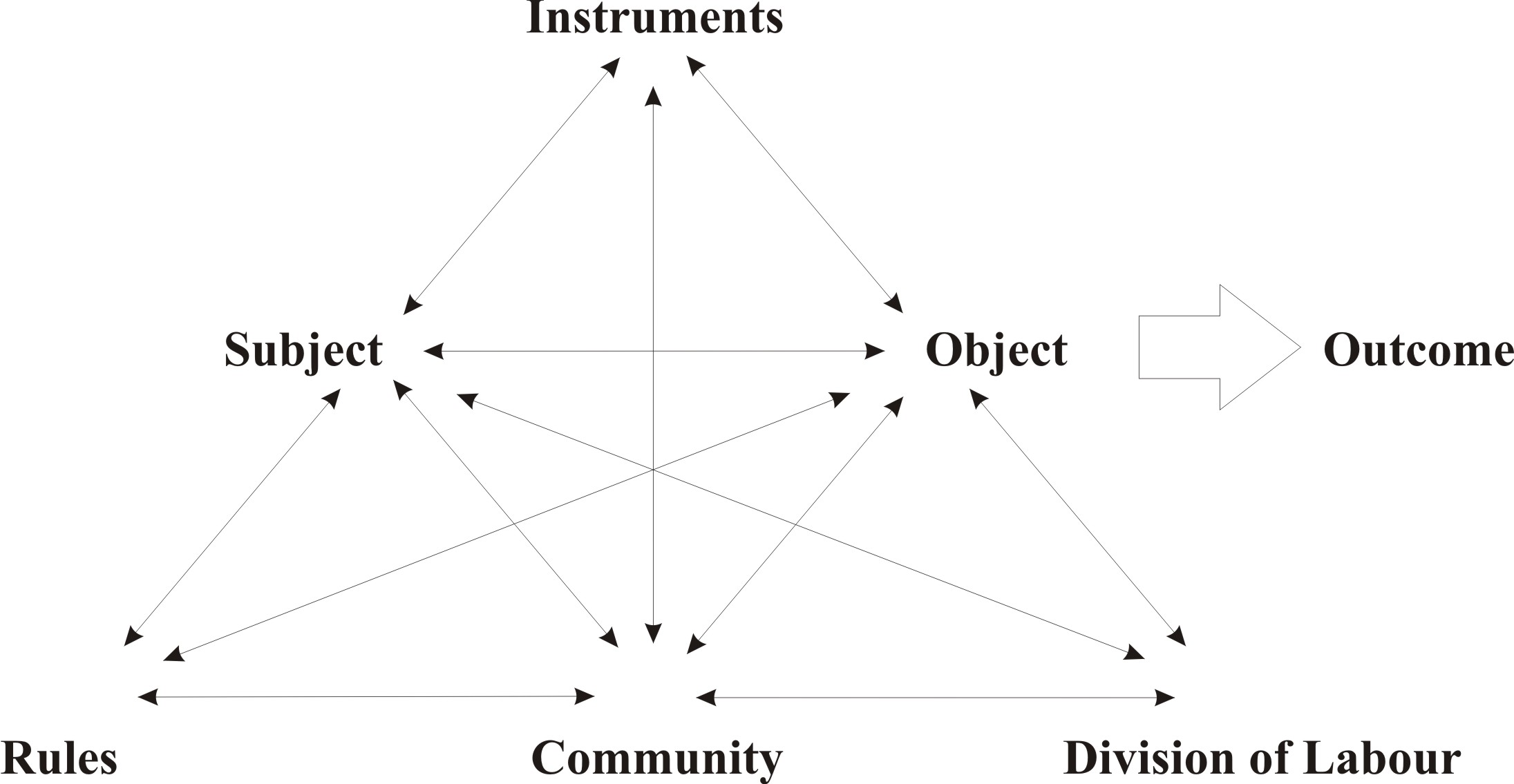 ---

_______________________________________________
xmca mailing list
xmca@weber.ucsd.edu
http://dss.ucsd.edu/mailman/listinfo/xmca

---
---
This archive was generated by hypermail 2b29 : Mon Aug 01 2005 - 01:00:55 PDT