Directions/Schedules/Fares
From: Peggy Bengel (pbengel@weber.ucsd.edu)
Date: Thu Apr 08 2004 - 15:15:26 PDT
---
Directions from Marriott Hotel to Cole's house: 522 Glencrest Drive,
Solana Beach, CA

If you happen to get lost or have other questions you can call Peggy
Bengel at 858-534-4006. She will be in the office from 8:00 AM - 4:30 PM
daily.

Directions Show Turn by Turn Maps

1. Start at 333 W HARBOR DR, SAN DIEGO on W HARBOR DR - go < 0.1 mi
2. Turn Left on 1ST AVE - go 1.1 mi
3. Turn Left to take I-5 NORTH - go 20.6 mi
4. Take the LOMAS SANTA FE DR exit towards SOLANA BEACH - go 0.2 mi
5. Turn Left on LOMAS SANTA FE DR - go 0.4 mi
6. Turn Right on GLENCREST DR - go 0.4 mi
7. Arrive at 522 GLENCREST DR, SOLANA BEACH

The Solana Beach Boys and Girls Club (5th D site) is located on the
corner of Lomas Santa Fe Drive and Stevens Avenue, just south of the
turnoff for Glencrest Drive. See the attached map.

Train Schedules and Fares

Times listed are those coordinating with 3:00-5:00 site hours.
It is approximately 1 mile east from the Santa Fe depot to the 5th D
site at the Boys & Girls Club. The B&G Club is located at 533 Lomas
Santa Fe Drive, Solana Beach, CA, Telephone: (858) 755-9373.

Northbound:
Depart Santa Fe depot at 2:15 PM, arrive Solana Beach depot 2:50 PM

Southbound:
Depart Solana Beach depot 3:56 PM, arrive Santa Fe depot 4:33 PM
Or
Depart Solana Beach depot 5:17 PM, arrive Santa Fe depot 5:57 PM

Train Fares:

$4.25 each way, or $8.50 round trip
$2.00 each way, or $4.00 round trip for Seniors (60+)

For more information you can go to www.sdcommute.com/Rider_Info

---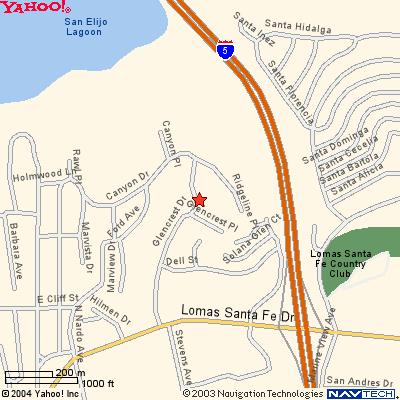 ---
---
This archive was generated by hypermail 2b29 : Sat May 01 2004 - 01:00:07 PDT